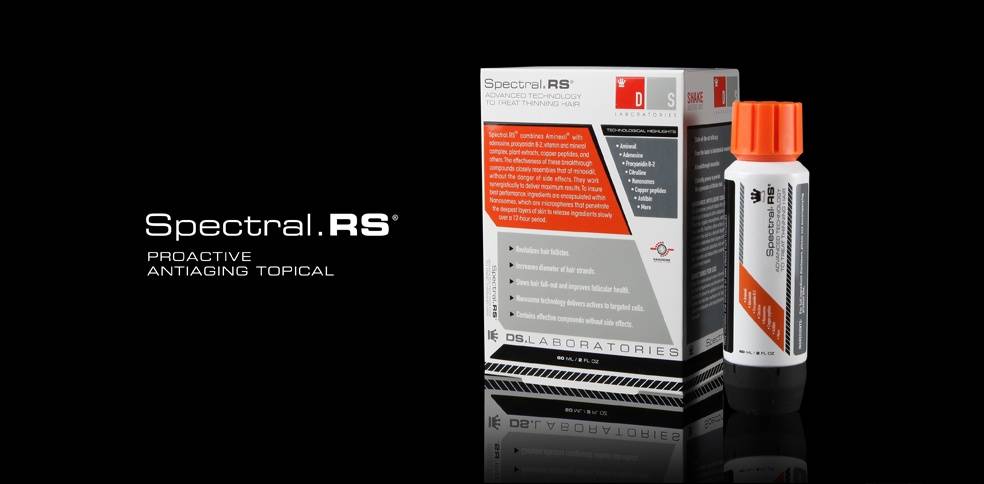 Spectral.RS® Multiple high-performance ingredients means
advanced technology to stimulate thinning hair
Unlike mass-market products, Spectral.RS addresses multiple causes of thinning hair because it deploys multiple high-performance ingredients.
This advanced technology works by opposing perifollicular fibrosis, hormonal imbalances, environmental stressors, vitamin and mineral deficiencies, side effects of medications, and other etiologies — all without using minoxidil. ◊*

Spectral.RS is indicated for Women and Men who prefer a natural formula because it makes hair look thicker and feel stronger without using minoxidil.◊*
Quality of hair plays a huge role in everybody's self image. But the hair and scalp of both men and women can take a beating from ultraviolet radiation, environmental pollutants, styling chemicals, stress factors, changing hormones, and simple aging.
Women will start to see a loss of volume, shine, and strength by age 30. Half of all men will show male pattern baldness by age 50. For both women and men, every day becomes a bad hair day. Spectral.RS optimizes hair health and scalp vitality for any user, supporting delicate follicles gently with leading technologies.◊*
Topical formula inhibits DHT and sebum; 
supports collagen, circulation, overall hair appearance◊*
Applied topically, the pharmacology of Spectral.RS is best for most women because it is formulated to stimulate hair follicles on scalps with generalized thinning, as opposed to those with male pattern baldness.◊*
The treatment is effective for many men as well, since it is not simply one chemical, like mass-market products, rather it is an arsenal of ingredients arrayed against hair shedding.◊*
Spectral.RS preserves hair by:
Preventing perifollicular fibrosis, a condition in which collagen at the roots becomes rigid and pushes hair strands out.◊*
Inhibiting the conversion of testosterone into dihydrotestosterone (DHT).◊*
Improving blood supply by removing excess sebum that accumulates in hair follicles.◊*
Shocking follicles back into anagen growth phase.◊*
Supporting the overall health and condition of scalp.◊*
When choosing between solutions, users make a mistake if they rely on just a single ingredient like minoxidil, losing the opportunity to attack hair problems through multiple pathways.
In fact, several interrelated factors contribute to performance, including the selection and purity of raw materials and the implementation of various combinations. At DS Laboratories, much attention goes into selection and purity, with the objective of preserving the biological properties of each compound.
Since research also shows the importance of absorption and persistence to achieve growth, another objective is to deliver precise dosages. By vectoring ingredients deeper and keeping them on site longer, Spectral.RS enables hair-growth effectiveness not otherwise possible.◊*
Such dosage control is accomplished through proprietary Nanosome encapsulation, which delivers ingredients to the proper depth for the desired time.
Apply 6 sprays twice per day
Shake well before use. Apply 6 or more sprays in the thinning area twice per day. Rub the liquid evenly over the entire scalp. Do not rinse. Spectral.RS should be applied on a consistent schedule whether hair has been washed or not. Spectral.RS can be used in combination with topical treatments containing minoxidil.
This formula is contraindicated in individuals with a history of sensitivity reactions to any of its components. It should be discontinued if hypersensitivity to any of its ingredients is noted. This product should NOT be used by pregnant women. For adult use only. Keep out of reach of children. Do not exceed the recommended dose. Nanosomes may increase absorption of other products. Questions or comments: 1.888.404.7770
---
Legend
[*] Results are not guaranteed, individual results may vary.
[◊] This statement has not been evaluated by the Food and Drug Administration. This product is not intended to diagnose, treat, cure, or prevent any disease.
New packaging currently only available in select markets