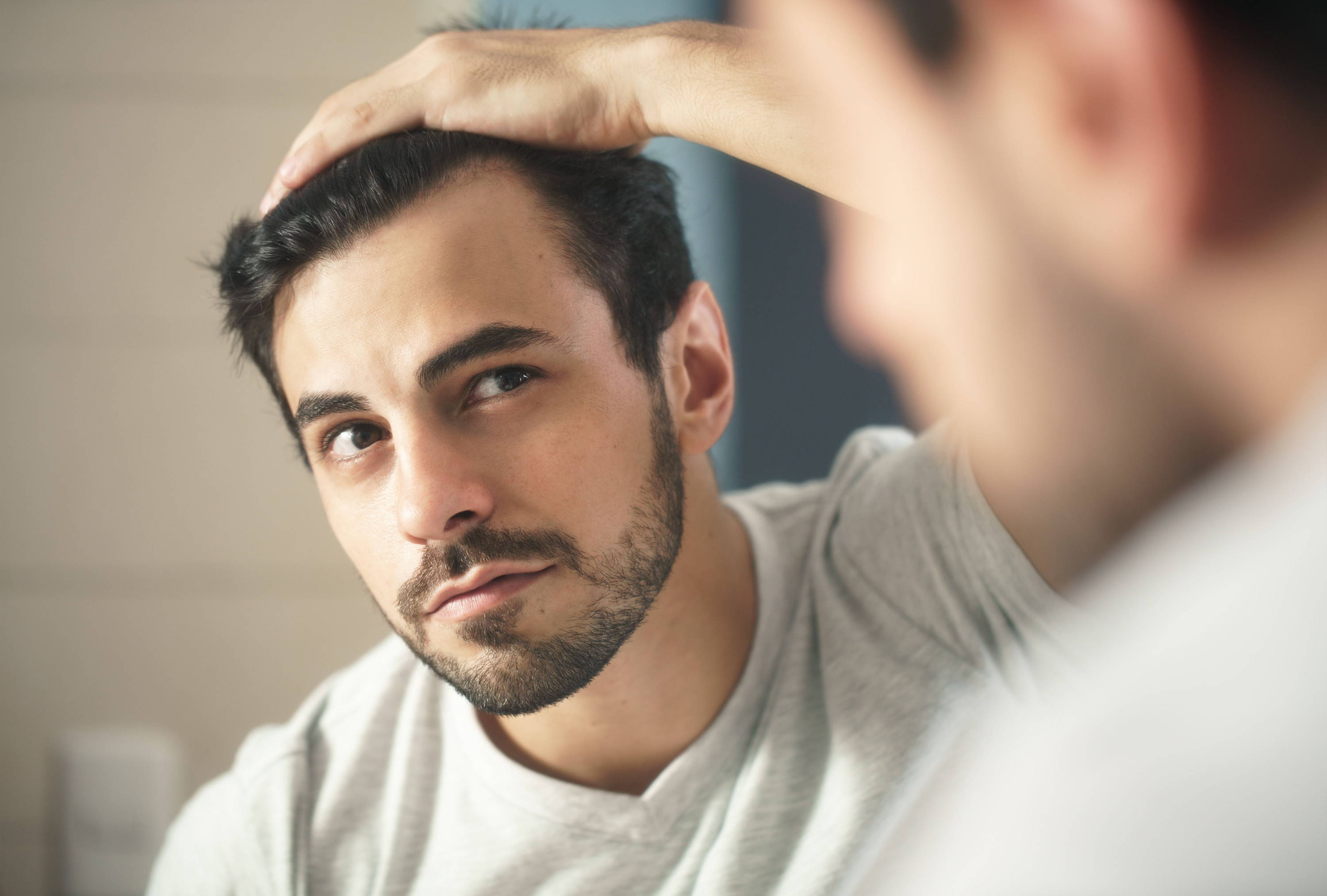 Spectral.F7® Efficacy booster agent for hair.
Spectral.F7® Efficacy booster agent for hair.
Now men and women in treatment for thinning hair can add F7 with astressin-B, a complex new peptide, to maximize hair benefits. Spectral.F7 augments primary formulations like Spectral.DNC-N® or minoxidil based formulations, and it can serve as an effective stand-alone product in early stages of thinning. ◊*

Men and women using various therapies add this efficacy booster agent◊*
Spectral.F7 astressin-B topical solution is indicated in the treatment of thinning hair and for overall improvement of hair and scalp health.◊ This efficacy booster agent is added to the treatment programs of men and women who already use a primary hair stimulating product, like Spectral.DNC-N® who want to optimize benefits.◊* Use of the booster is recommended to help combat thinning and improve follicular health. It works through a unique mechanism of action, which may not be addressed by minoxidil, finasteride, or other agents. In early stages of thinning, Spectral.F7 can serve as an effective stand-alone treatment.◊*
Complex new astressin-B peptide delivers 33 amino acids to hair follicles◊*
Users concerned about hair thinning gain a unique advantage from Spectral.F7, because this product is the first topical booster developed for use to deploy the evolutionary peptide astressin-B.◊*
This 33-amino-acid protein fragment has an acetylated N-terminus, an amidated C-terminus, and a lactam bridge containing the amino acids methylleucine, norleucine, D-phenylalanine, leucine, threonine, histidine, arginine, glutamate, glutamine, valine, alanine, lysine, isoleucine, and others.
Formation of the amide bond on the C-terminus is achieved by using a Rink amide resin, which is the solid support and starting point for peptide synthesis. Completion of synthesis and subsequent cleavage from the resin leaves the C-terminus with an amide bond intact.
Additional components of Spectral.F7 include Proharin-β4 (octapeptide 2), bis(tripeptide-1) copper acetate, and lecithin used in Nanosome encapsulation for enhanced absorption.
To be effective, ingredients must be absorbed deeply, predictably, in the right concentrations, and they must remain on site long enough to perform. Among the many innovations delivered by Spectral.F7, Nanosome encapsulation accomplishes these objectives.
Nanosome technology wraps pure active compounds within tiny liposomal microspheres made of phospholipid bilayers that have a composition similar to human scalp.
While standard products remain on the surface and dissipate quickly, Nanosomes mean that Spectral.F7 can penetrate the scalp deeply and release ingredients gradually.
So users benefit from maximum performance over a 12-hour period.
Apply 6 sprays once per day as a booster or twice per day as a primary treatment
To enhance a primary therapy like Spectral.DNC-N® or minoxidil, apply 6 sprays of Spectral.F7 and massage it into the scalp after your regular morning treatment or before your regular evening treatment. Wait at least 10 minutes between products. To use Spectral.F7 as a stand-alone therapy, usually in the early onset of thinning, apply it both morning and evening. Spectral.F7 is for topical use only. FOR ADULT USE ONLY. Not for use when pregnant or nursing.
Peptides like astressin-B enjoy exceptional safety profiles
No safety issues are anticipated for Spectral.F7 topical solution because peptides, which are well tolerated and used widely in cosmetics, simply break down into their constituent amino acids. With a safety profile similar to those of other peptides, astressin-B should be tolerated just as well. Astressin-B is a long-chain peptide with 33 amino acids including methylleucine, norleucine, D-phenylalanine, leucine, threonine, histidine, arginine, glutamate, glutamine, valine, alanine, lysine, and isoleucine. The exceptional history of peptides performing safely in topical solutions means that users can add Spectral.F7 without concern for side effects. So hair restoration can be optimized with just a few sprays.
---
Legend
[*] Results are not guaranteed, individual results may vary.
[◊] This statement has not been evaluated by the Food and Drug Administration. This product is not intended to diagnose, treat, cure, or prevent any disease.
New packaging currently only available in select markets