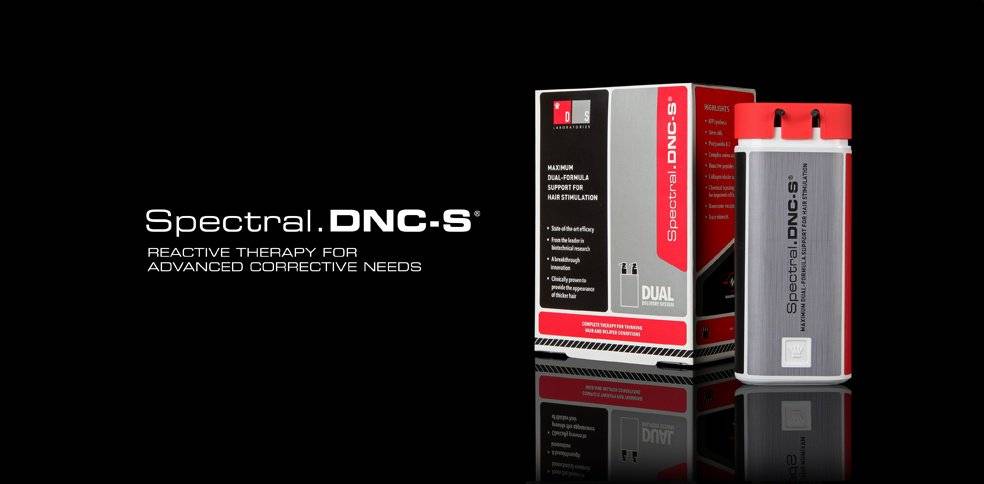 Spectral.DNC-S® Breakthrough Hair Support System
Spectral.DNC-S is so advanced that it comes as two separate formulas until users combine them during application for maximum performance.
The minoxidil-free product delivers advanced hair-stimulating effectiveness for both men and women.

Spectral.DNC-S is indicated for Men and Women in advanced stages of hair thinning because it delivers numerous compounds performing through complementary pathways.◊*
Most treatments work best in the early stages of hair falling, before the follicles have a chance to atrophy. But this advanced, minoxidil-free, dual-chamber system also performs well in latter stages of thinning due to the exhaustive research done by DS Laboratories. The company has identified natural compounds that deliver performance in hair stimulation.◊*
These powerful ingredients are delivered through an easily accessible cosmetic product, not a drug. By packaging ingredients in two separate chambers, the delicate materials can be deployed in higher concentrations for higher performance.◊*
This new biotechnology means that Spectral.DNC-S can address hair issues more aggressively. ◊*
Novel ion-channel technologies benefit those experiencing thinning◊*
Spectral.DNC-S is our most complex innovation to optimize hair and prevent its thinning because it expresses years of research, contains novel ion-channel openers, and dual chamber bottle transports it's key compounds for maximum stability.◊*
Prior to this minoxidil-free formula, many of the most promising combinations of ingredients had proven unstable. But in Spectral.DNC-S, more of these materials can be combined successfully. It is laden with beneficial agents, and a dual-chamber delivery system expands the capacity of one product to contain them all.
In the complex biology of scalp, novel combinations of ion-channel-opening compounds, similar to minoxidil but from natural sources. In this product, they can be deployed through a unique cosmetic formulation, not a drug.
This new modality shifts the paradigm of hair-follicle care, becoming a new standard to target a wider spectrum of symptoms. The passionate pursuit of more advanced biotechnologies guides all development at DS Laboratories, whose objectives are wide-spectrum activity, long-term efficacy, comfortable wear, and improved overall health.
Spectral.DNC-S means high performance in a healthy environment, unlike minoxidil-based products, which can irritate scalp and leave a greasy, sticky residue.
Hyperformance ingredients make Dandrene next-generation antidandruff shampoo & conditioner◊*
Shake well before use. Apply six sprays twice per day directly in the area of thinning hair. Rub in the liquid evenly and wash hands with soap and water immediately after use. Do not rinse. Spectral.DNC-S should be applied whether hair has been washed or not.
For best results, hair should be washed at least five times per week. Regular use on a consistent schedule without skipping applications is critical.
See Safety tab for important storage and use information.
Apply six sprays twice per day
This formula is contraindicated in individuals with a history of sensitivity reactions to any of its components. It should be discontinued if hypersensitivity to any of its ingredients is noted.
Pregnancy or breast-feeding
Warning: Do not use if pregnant or breast-feeding.
For ADULT USE ONLY. Store at 20°C to 25°C (68°F to 77°F). Keep tightly closed.
When using this product:
Do not apply on other parts of the body.

Avoid contact with eyes. In case of accidental contact, rinse eyes with large amounts of cool tap water.
Stop use and consult a physician if:
Chest pain, rapid heartbeat, faintness, or dizziness occurs.

Sudden, unexplained weight gain occurs.

Hands or feet swell.

Scalp irritation or redness occurs.

Unwanted facial hair growth occurs.
May be harmful if used when pregnant or breast-feeding. Keep out of reach of children. If swallowed, get medical help or contact a poison control center right away.
Questions or comments: 1.888.404.7770
---
Legend
[*] Results are not guaranteed, individual results may vary.
[◊] This statement has not been evaluated by the Food and Drug Administration. This product is not intended to diagnose, treat, cure, or prevent any disease.
New packaging currently only available in select markets