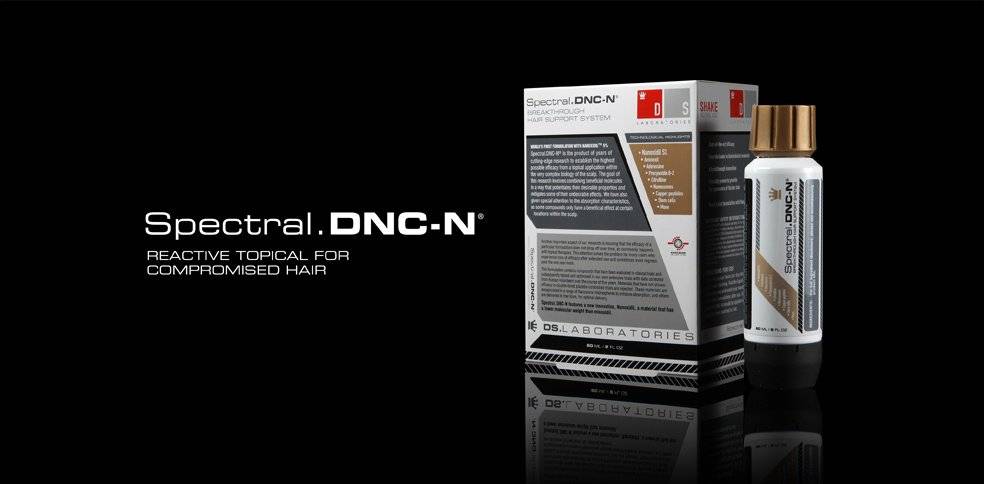 Spectral.DNC-N® Breakthrough hair support system
Spectral.DNC-N with Nanoxodil, a powerful new alternative, with high efficacy and low molecular weight.
Men and women disappointed with mass-market minoxidil products often enjoy higher performance from Spectral.DNC-N because it deploys a multilateral approach to hair stimulation.◊* The rich formula is indicated for thinning that is clearly visible and not confined to the vertex (crown) of the scalp.
Unlike common minoxidil lotions and foams, Spectral.DNC-N delivers a broad range of ingredients that perform through complementary pathways. They work at the hairline as well as at the vertex, and they are formulated for women as well as for men.◊* The formula offers:
Nanoxidil, a powerful alternative to commercial-grade minoxidil.

Procyanidin B-2 for the hairline, retinol for absorption, adenosine for cell optimization.

Copper peptides to counter inflammation and herbal extracts to improve overall condition

A Nanosome-encapsulation system to transport compounds deeper into the skin for longer performance and persistance◊*

Natural texture and comfortable feel.
All of these active ingredients result in effective hair stimulation, so both women and men can keep more of their hair longer and stronger looking.◊*
Nanoxidil-based topical solution for optimal hair◊*
Spectral.DNC-N can maintain delicate follicles in their healthiest possible state to produce optimal hair at every stage of life because it employs Nanoxidil, a complex new compound developed as an alternative to minoxidil.
Within the complex biology of the scalp, Spectral.DNC-N establishes the highest possible efficacy from a topical application, combining beneficial molecules in a way that potentiates desirable properties and mitigates undesirable effects.◊*
A more global approach to thinning and falling hair, the product is intended both for the vertex (crown) of the scalp and for the frontal hairline.◊*
Hair Life Stages
Follicles cycle through three phases: anagen (growth), catagen (regression), and telogen (resting). In successive cycles, a follicle replaces its hair strand with another that may be either the same size or finer (balding) or thicker (treated).
Anagen phase may last two to five years for long scalp hairs, or just a few weeks for short body hairs.
DS Laboratories research
A leader in the biotechnology of hair, DS Laboratories has researched in molecular detail the etiology of hair thinning and falling.
Nanoxidil is combined with Aminexil®, adenosine, procyanidin B-2, citrulline, copper peptides, T-flavanone, and additional hair stimulation and support agents. The formula is designed for the many people who may not have responded to minoxidil or may not have tolerated its side effects.
Minoxidil, which works only on part of the scalp and only for a subset of users. The chemical sometimes can cause side effects, commonly itching, burning of eyes, and irritation at the application site. Less common side effects can include allergic reaction, chest pain, dizziness, and rapid heartbeat. Alcohol used in common minoxidil products can dry the scalp, with its own adverse effects.
To optimize delivery of our Minoxodil-free formulation, this Nanoxodil powered topical employs microspheres called Nanosomes, which encapsulate active molecules in solution. Nanosomes enhance the action of each ingredient, resulting in improved efficacy.◊*
Another important aspect of DS Laboratories' research is ensuring that the efficacy of a formula does not diminish over time, as commonly happens with other brand's topical formulations.
Apply six sprays twice per day
Apply six pumps twice per day directly in the area of hair thinning. Rub the liquid evenly over the entire area and wash hands with soap and water immediately after use. Do not rinse. Spectral.DNC-N should be applied whether hair has been washed or not.

Spectral.DNC-N must be used as directed without interruption. A sudden interruption or pause for a few days can cause thinning, falling and loss of progress.
DS Laboratories recommends that users make Spectral.DNC-N a regular part of their daily hair-care routine and that careful plans be made to ensure an adequate supply when planning to travel.
Spectral.DNC-N is for topical use only.
This formula is contraindicated in individuals with a history of sensitivity reactions to any of its components. It should be discontinued if hypersensitivity to any of its ingredients is noted.
This product should NOT be used by pregnant women.
For adult use only. Keep out of reach of children.
Do not exceed the directed dosage because results would not be better or more rapid, but chances of side effects would be increased.
Nanosomes may increase absorption of other products.
---
Legend
[*] Results are not guaranteed, individual results may vary.
[◊] This statement has not been evaluated by the Food and Drug Administration. This product is not intended to diagnose, treat, cure, or prevent any disease.
New packaging currently only available in select markets