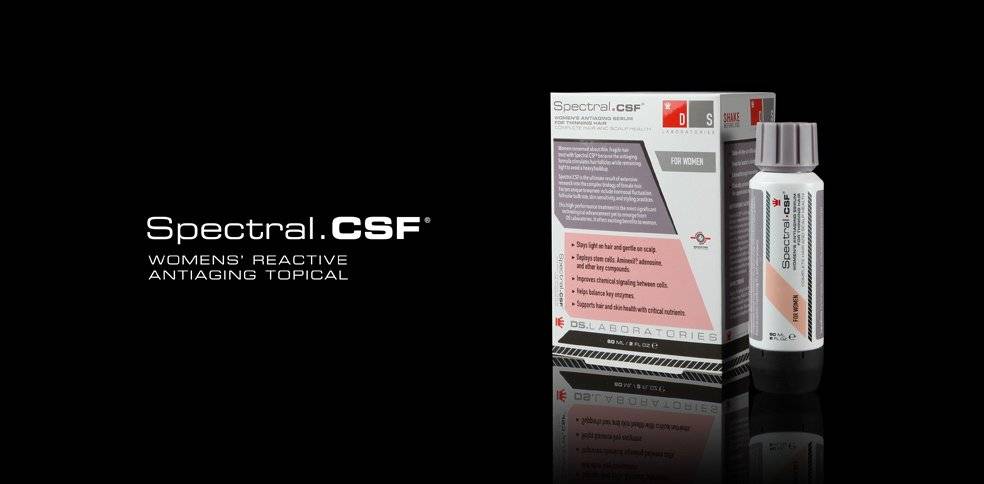 Spectral.CSF® Women's anti-aging therapy for thinning hair
Specialty formula is indicated to treat women's hair shedding, breaking, aging◊*
Women concerned about thin, fragile, falling hair use Spectral.CSF because the anti-aging formula stimulates hair aggressively while remaining light to avoid heavy buildup.◊* Without extraneous ingredients targeted to men, this new formulation for women results from extensive research at DS Laboratories into the complex biology of female thinning and falling. Factors unique to women include follicular bulb size, hormonal fluctuations, skin sensitivity, and styling practices.
Spectral.CSF is indicated for women who notice hair getting thinner, breaking shorter, or looking older, because this high-performance formula addresses the unique biology of female pattern thinning.◊*
Hair plays a huge role in a woman's self image. But hair and scalp can take a beating from ultraviolet radiation, environmental pollutants, styling chemicals, stress factors, and changing hormones. By age 30, women start to notice a loss of volume, shine, strength, and elasticity. Many women even develop advanced thinning, similar to men, although the female thinning is more diffuse across the head. Every day becomes a bad hair day. Spectral.CSF is formulated to stop these and reverse signs of aging, while remaining light on the hair and scalp, compared with many of the heavier products designed for men.◊* This formula means that women get their own cutting-edge technology, delivered with a lighter touch, to optimize scalp vitality and thus work to achieve longer, stronger, thicker looking hair.◊*
Spectra.CSF topical for Women with Thinning Hair
Women can grow longer, stronger, thicker looking hair with Spectral.CSF, which remains light on hair and scalp to avoid heavy buildup, because the specialized formula contains only those ingredients best targeted to female pattern thinning, without the chemicals used primarily for men's issues.◊*
Female versus male pattern
Spectral.CSF — the current state of the science — results from extensive research at DS Laboratories into the complex biology of women's hair and scalp. Unlike male thinning, in which hair falls from thevertex and along the frontal line, the female thinning is more evenly diffuse across the entire scalp. Women may also experience episodes of falling and thinning due to hormonal fluctuation, vitamin deficiency, medication, or stress. Both male and female thinning are associated with dihydrotestosterone, a hormone synthesized in the presence of sebum, and with perifollicular fibrosis, a condition wherein collagen at the roots becomes rigid and pushes hair fibers out from the surface. While sophisticated products for men may contain many active ingredients, each chemical has the potential to weigh down a woman's thinning hair- so women need a product that is lighter and designed for their specific needs.
Biotechnology for women's hair
Spectral.CSF contains only the key compounds most associated with longer, stronger, thicker looking hair in women: a rich formulation works to stimulate hair and prevent signs of aging.◊* In another innovation, Spectral.CSF delivers many ingredients via Nanosome encapsulation. Through this technology, microspheres much smaller than human skin cells, made of organic liposome similar to skin, transport key compounds deeper below the surfaces of hair and scalp.◊* The Nanosomes dissolve gradually, releasing their valuable cargo over several hours for maximum benefit.◊*
This combination of high-performance ingredients delivered deeper means that beauty professionals increasingly recommend Spectral.CSF to female clients concerned about hair length, strength, or density.◊* So women can have their hair appear longer, stronger, and thicker at every stage of life.◊*
Apply 6 sprays or 1 ml twice per day
Twice per day, apply 6 pumps with the sprayer or 1 ml with the dropper. Apply product directly in the area of thinning. Rub the liquid evenly over the entire area and wash hands with soap and water immediately after use. Do not rinse. Spectral.CSF should be applied whether hair has been washed or not though it is recommended to apply on a clean head free of styling or other hair care products.
Spectral.CSF is for topical use only. This formula is contraindicated in individuals with a history of sensitivity reactions to any of its components. It should be discontinued if hypersensitivity to any of its ingredients is noted.
Caution: 
This product should NOT be used by pregnant women. For adult use only. Keep out of reach of children. Do not exceed the recommended dose. Nanosomes may increase absorption of other products.
---
Legend
[*] Results are not guaranteed, individual results may vary.
[◊] This statement has not been evaluated by the Food and Drug Administration. This product is not intended to diagnose, treat, cure, or prevent any disease.
New packaging currently only available in select markets