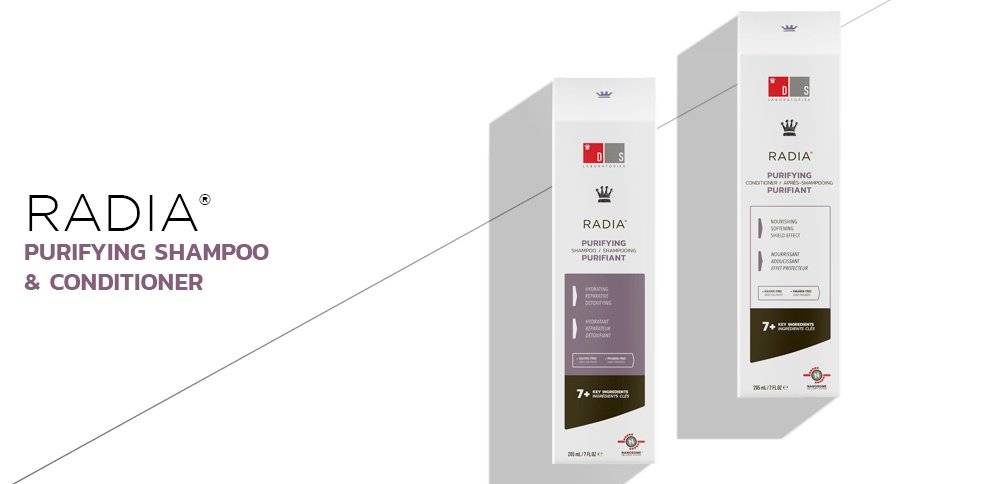 RADIA® Purifying Shampoo & Conditioner
Regular use of Radia Purifying Shampoo means an ultra-purifying effect without stripping hair or scalp of natural moisture. So styling is easy, texture feels smooth, and users show maximum radiance and shine.◊*
The advanced technologies formulated into Radia Purifying Conditioner mean smooth, supple hair strands, with a healthier shine and none of the dull buildup left by mass-market conditioners. Color looks radiant, not dull, and texture feels smooth, not rough. ◊*

Nia® Shampoo is formulated with an innovative complex of ingredients to gently remove dirt and oil without stripping hair color, while providing perfect hydration to help repair split ends. With unique reparative properties, this formulation works to extend hair color and protect from color washout. Rich in botanicals, Nia® Restructuring Shampoo transforms hair by balancing hydration and reducing damage for healthier, softer, more vibrant looking hair.
Nia® Restructuring Conditioner detangles, moisturizes and boosts tresses for a vibrant, fresh look with more manageability and shine. Equipped with a powerful restructuring complex, this formula repairs split ends and infuses hair with long-lasting moisture while reducing damage—resulting in softer, silkier feeling hair with amazing body.
Users who want to retain color and shine detoxify hair with Radia® Purifying Shampoo◊*
Radia Purifying Shampoo is indicated for men and women who need to clear away the toxic chemicals that build up on hair and to protect the hair from ultraviolet rays that sap its color. Radia is classified as a clarifying shampoo, which reduces and inhibits buildup.◊*
Calcium, copper, and other ions in bathwater often build up on hair. Styling products can leave dimethicone, cetrimonium bromide, and quaternary ammonium compounds. Even common sunlight subjects the hair and skin to ultraviolet radiation that burns and ages by altering the structural properties of cells.
Toxins and UV radiation disrupt a hair's protective cuticle and increase its porosity, thus changing its look and texture. Hair becomes dry, feels rough, and looses suppleness. Color and gloss decline. Keratin structure changes through the photo-oxidation of cysteine, sterols, and fatty acids. Free-radical reactions break down the amino acids, disulfide bonds, and lipids. Both natural and colored strands become bleached.
While hair protects the body from sunlight and toxins, what protects the hair? Regular use of Radia Clarifying & Softening Shampoo is an excellent strategy, especially for damaged hair, which maintains a higher negative charge and attracts even Users who want to retain color and shine detoxify hair with Radia® Purifying Shampoo◊*more toxic buildup.◊*
Radia® Purifying Conditioner
Users who want softness and shine without buildup choose Radia® Purifying Conditioner◊*
Radia Purifying Conditioner is indicated for men and women who want softer hair and a healthier shine without the dull buildup left by common conditioners. Radia is classified as a clarifying conditioner, which opposes toxic buildup. Dullness and roughness persist when mass-market conditioners are allowed to coat hair fibers with heavy deposits. A good clarifying conditioner, however, resists buildup from personal-care products, including chemicals like cationic cetrimonium bromide and polymers such as quaternary ammonium compounds.
Radia does not add wax to that buildup. Instead it conditions by softening hair strands with true humectant effects, then applying an amazingly thin biofilm to lock in moisture and improve shine.◊*
Radia removes chemical buildup and detoxifies hair as it softens and protects it from ultraviolet radiation such as sunlight.◊*
Environmental pollutants, styling products, even high-quality shampoos often leave a chemical buildup. But a good clarifying shampoo such as Radia — the result of pioneering research in photo-protection and wetting sciences — to remove toxins and guard against premature aging.◊*
Regular use means that hair can retain its full color and shine.
Radia Purifying Conditioner reveals a natural, healthy shine because its advanced technologies repair and soften hair fibers without leaving a waxy residue. This conditioner can be used daily both to avoid the deposits left by regular conditioners and to repel the buildup left by other styling products.◊*
Radia Shampoo: Radia can be used as a daily shampoo, and it should be used at least occasionally to clarify hair. Wet the hair thoroughly, lather, and rinse. Repeat as necessary. Follow with Radia Purifying Conditioner.
Radia Conditioner: Work thoroughly through damp hair and leave on for one minute, then rinse.
---
Legend
[*] Results are not guaranteed, individual results may vary.
[◊] This statement has not been evaluated by the Food and Drug Administration. This product is not intended to diagnose, treat, cure, or prevent any disease.
New packaging currently only available in select markets